Wasatch Front:
The following article written by Jason Lee, of KSL.com explains the Wasatch Front Real Estate Market and the reasons behind the strong demand and low inventory.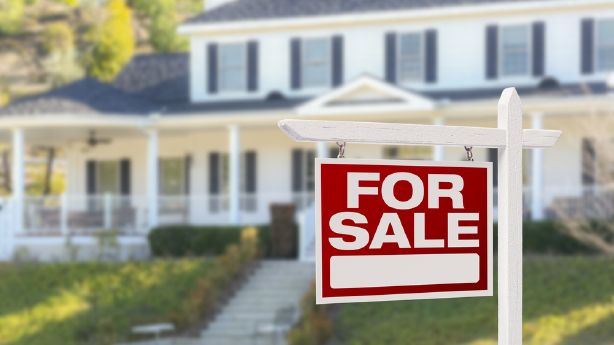 Andy Dean Photography, Shutterstock
Why home listings are down along Wasatch Front 'despite strong demand'
By
 |  Posted Apr 28th, 2017 @ 7:14am
Read More
---
SALT LAKE CITY — Buying and selling homes along the Wasatch Front has become a heart-wrenching experience for many who are caught in the middle of one of the most challenging markets since the Great Recession.
Nick Barker, 33, and his wife sold their house in Heber City for full asking price in just one week in early March, hoping to relocate closer to work and family in Salt Lake City. Since then, they have been on one of the wildest rides in recent Utah real estate history, having viewed 30 to 40 houses."We bid $40,000 over asking price on one house and still didn't get it," Barker said. He found out later that the winning bidders were willing to pay up to $60,000 above list price to purchase the property.Over the past two months, the couple made offers on six properties and were rejected "on every single one of them."

Currently, they are under contract on a home in the Sugar House area and hope to close in a few weeks. After such an arduous experience, he said they learned a few important lessons. "Anybody that's looking for a house just needs patience," he advised. "Be aggressive, but not (so much) to go over your max budget. You don't want to be 'house poor.'" The Salt Lake Board of Realtors reported Thursday that low inventories resulted in falling home sales across the Wasatch Front during first quarter 2017 compared to the same period a year ago. In the first quarter, sales of single-family homes during the period declined 5 percent from the first quarter of 2016, the report stated. However, the price people are willing to pay these days is increasing steadily, Troy Peterson, Salt Lake Board of Realtors president, said. "This is the strongest seller's market ever. To be a buyer right now is just brutal," he said. "Competition is fierce for homes priced under $500,000. Many sellers are making the sale of their home contingent on them finding another property."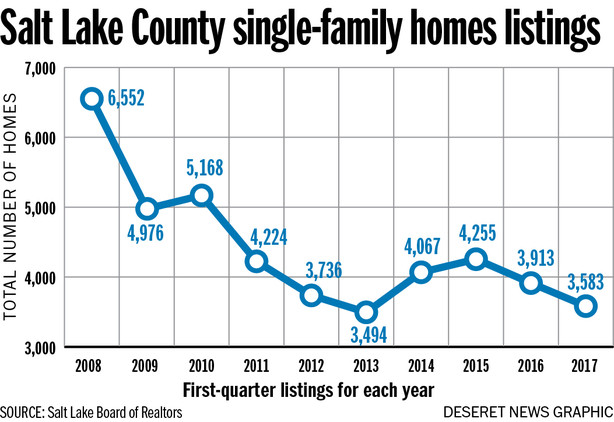 Peterson said sales would be rising if listings were more abundant. The report stated that new listings along the Wasatch Front were down 6 percent from the same period last year — representing more than 500 fewer homes for sale. Utah's robust economy, strong net immigration and new household formations are making it difficult for first-time buyers to find homes, he said. Competition even exists for higher-priced properties, Peterson noted, adding that he's never seen anything like the current market in his 22 years of selling real estate. He mentioned that a recent $950,000 listing garnered three offers, each coming in at $1 million or more. He added that the competition is especially challenging for first-time buyers, having recently represented a buyer who offered $215,000 on a $190,000 listing. For Mary Hardy, of Murray, the current housing market has been one of frustration and surprise. Her family is in the process of selling their home and purchasing a new place, but making the move to another property will require a contingency clause in her sales agreement. It's a situation they were not really prepared for when they made the decision to trade out their old home for a new space.
---
Anybody that's looking for a house just needs patience.
–Nick Barker, homebuyer
---
"We have been wanting to relocate for over a year now, so we felt the time was right to sell and take advantage of the equity (in our current house)," she said. "When we started looking and found that even with a huge budget increase we could not find everything we wanted, we started to panic and requested the contingency clause as a safety net." She described the current state of the local housing market as baffling. "The rate at which house prices have risen in just the past year is incredible," Hardy said. "And interest rates are rising, too, so it seems like it would be nearly impossible for anyone to buy up." Meanwhile, though sales of single-family homes showed slight declines, condominium sales increased. In Salt Lake County, condo sales climbed 6 percent in the first quarter year-over-year, driven partly because condos are typically less expensive than single-family homes.
Home prices
The median price of a single-family home on the Wasatch Front rose from $255,000 a year ago to $280,000. Salt Lake County registered the highest single-family home price of the five counties along the Wasatch Front, with a median sales price of $300,000 — up 10 percent from first quarter 2016. Utah County registered the second-highest median home prices at $287,000 — up 8 percent year-over-year; and homes in Weber County were the most affordable along the Wasatch Front, with a median sales price of $205,000.
What's ahead?
Analysts warn the failure of supply to match demand would likely continue for the foreseeable future. "Despite strong demand and significant housing price increases in the past five years, which has increased equity for owners, listings are trending down," said Jim Wood, Ivory-Boyer Senior Fellow at the University of Utah's Ken C. Gardner Policy Institute. "Homeowners are reluctant to list and enter the market due to worries about finding a suitable replacement." He said the lack of listings is driving prices higher, including double-digit increases in median sales prices during first quarter this year for Salt Lake County. "All this points to substantial increases in housing prices in 2017," Wood said.
City's Top Real Estate Agent 
 #mcm #wcw #utahhomesforsale #openhouse #homebuying #utahluxuryhomes #buyahome #homebuyer #utahrealestate #utahrealtor #utaheconomy #bestinclass #bestinstate #utaheconomy #successfulrealestateagents #skiutah
Linda Secrist's Salt Lake City Real Estate Home Page 
• 
Salt Lake City Real Estate
 • 
Draper Utah Real Estate 
• 
Holladay Utah Real Estate 
• 
Sandy Utah Real Estate 
• 
South Jordan Utah Real Estate 
• 
Salt Lake