What to Pack for a Ski/Snowboarding Vacation
Packing for a ski trip can be a challenge.
 Most of the clothes are bulky and traveling with gear can be a hassle. Clothes make a difference between enjoying your trip and being miserable.  For snow-play, leave the cotton at home and stick to wool or synthetic fabrics. Once cotton gets wet, from either sweat or snow, it won't dry out, leaving you damp and cold. In general, you want to pack pieces that can be mixed and matched to keep you warm and looking good. Mid layers are a good example of something you can wear on and off the slopes. However, you may want to pack separate base layers for snow sports and relaxing, because if you're like me, the skiing set will get stinky during the day.
On the slopes
Base:
Your base layer should be wool or synthetic. A mid- to heavy-weight is good depending on the rest of your gear. I wear a heavyweight
Hot Chillys
base with my ski pants and stayed toasty and warm without a mid layer. On top, I used a synthetic base plus a mid layer.
Mid: 
You may or may not need this layer depending on the rest of your gear. Fleece works well. On top, I use a zipped jacket or 1/4 zip that I can open when I get warm.
Outer:
This includes your ski pants and jacket. Make sure this layer is waterproof, especially if you're a beginning skier or rider, because you'll spend a lot of time on your butt in the snow. Ski pants and jackets are insulated to varying degrees, which will influence which other layers you choose. My jacket isn't insulated, so I really layer-up on top, sometimes using two light base layers and a mid layer underneath. My pants have some insulation built in so I only need the Hot Chillys bottoms. If you don't own, or want to pack, ski pants and coat, try using a rental service such as
Jans.com
. Simply order what you need online or stop in the store.
The important-small-stuff:
In addition to your layers, on the slopes you'll need gloves, ski goggles or sunglasses, a neck warmer such as a buff, cap, balaclava, or beanie that will fit under your helmet; and ski socks. Ski socks should be snuggly fitted and taller than regular socks making them a better choice with ski boots. Trust me; you don't want socks bunching up inside of your ski boots, ouch! Hand and foot-warmers are a pleasure to have on really cold days. Buy them off the mountain for the best deal. Depending on the type of skiing you have planned, you may need a backpack and hydration options.
For a downloadable packing list,
click here
.
Off the slopes
You'll be worn out by the end of the day, so pack some comfy clothes to relax in. Keep thinking in layers to give yourself more outfit options and save room. Again, they should include bases, mid-layers such as a snuggly fleece and an outer layer. The difference is that the outer layer doesn't need to be waterproof and the other could include some cotton such as jeans.
Base:
I like a thin bottom base, such as silk, under my pants. Sometimes I skip this and just wear one layer after hours if I won't be outside much.
Mid:
This is the piece you'll likely wear the most, so choose something that will pair well with all of your outfits and that fits   comfortably. There are so many sharp looking options available, it may be hard to choose just one, but for the sake of space, try.
Outer:
This can be any stylish coat, sized to fit a couple of layers underneath. By using layers, you can avoid packing your biggest, most bulky coat. Pick something that is wind and rain resistant for the most versatility.
The important-small-stuff:
Gloves, scarves and caps will round out your outfits without taking up much space. Make sure you pack some waterproof boots that can take a tromp through the snow. Sorel makes a bunch of options that get the job done while looking good. I didn't feel like a Salt Lake City local until I owned a pair. Then I found out they make all-rubber high-heels, not my grandma's idea of practical snow boots, but they rock! And don't forget… Pack all of your usual travel items such as toiletries, undergarments, swimsuit, and maybe some sweats for the hotel room. A few more items you shouldn't forget: sunscreen, snacks, and lip balm with sunscreen. Sunscreen is very important due to the high elevation and reflection up from the snow. Make sure you protect your face and lips well.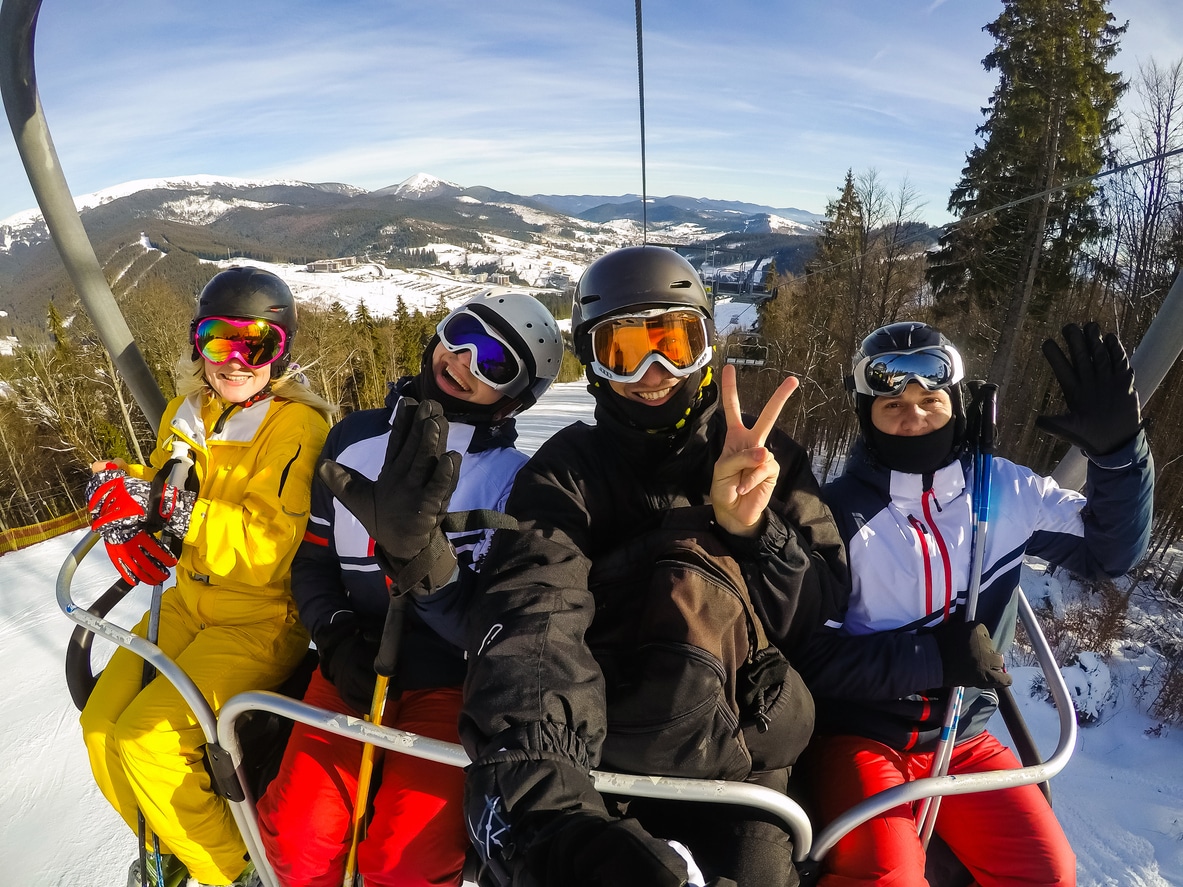 Carry On
In a perfect world, there wouldn't be a need for stores that sell lost luggage…but
bags DO get lost, treating travelers to an uncomfortable arrival.
But you can plan for the worst. Pack a day's worth of basics in your carry on. First, pack any prescriptions or supplies that would be a disaster to go without. Next, pack a change of clothes, base layers, ski socks, water-resistant boots, coat, gloves, and cap. With this much, you could rent everything else you would need to ski/ride, plus be comfortable off the slopes until your bags catch up. Pack a day's worth of basics in your carry on.
What about gear?
You have a few options for gear. It can be a hassle to check your board, skis or poles on the airline for a short trip, so you might want to rent them. However, boots are an important piece that I would go ahead and pack. I'd also prefer my own helmet, which doesn't take much space if you stuff it full of other items such as gloves and beanies. Do research on rentals ahead of time, there are rental options both on and off the mountain that may even give you the chance to demo some new gear you've wanted to try. Some will even give you a discount for reserving online in advance. Short on time? Have all of your rentals delivered so you can get on the snow faster. Both
Ski Butlers
and
Ski 'N See Delivery
will bring gear directly to you. If all of these new clothes and accessories sound expensive, read my post:
Dressing for cold weather travel on a budget
. Don't be the person who shows up in jeans and ends up miserable two hours into the lesson. Make time to "beg, borrow or steal" some decent clothes so you can focus on learning to ski, not trying to stay warm and dry.