Good skiers make good mountain bikers. And, of course, vice-versa. So, it's no wonder that America's best ski towns morph into the best mountain biking towns each summer and early fall. Meandering through the mountains that were previously coated with snow are some of the best biking trails in America.
Beyond the exhilaration factor, mountain biking is a great off-season activity, good for your legs, core, heart and lungs, which will help you on those top-to-bottom burners when ski season rolls around again. Mountain biking is also great for your balance, coordination, and reaction time. Aside from the exercise, it's a fun way to explore the mountains in the summer. Need some inspiration? Below we feature some of the best single track biking trails in the USA.
1. Rim Trail, Lake Tahoe, California, and Nevada
The Tahoe Rim Trail passes through two states (California and Nevada), six counties, one state park, three national forests and three wilderness areas with riding itineraries that span from lake and waterfall rides to wildflower and peak rides. Of the 165 miles of trail that encircles the largest alpine lake in North America, more than 80 miles are open to mountain bikes. The views are vast, the terrain varied and it can be enjoyed by bikers of all abilities. Many local bike shops provide shuttles for the point-to-point rides within the Rim Trail.
2. Phil's Trail, Mt. Bachelor, Oregon
Phil's Trail, a network of intersecting trails, offers hundreds of miles of singletrack mountain biking, only minutes from downtown Bend. Phil's is all about flow, with descents that don't require constant breaking and gradual climbs that allow for fun cornering, even while going uphill. The opportunities for exploration are endless, as trails span out west toward Mt. Bachelor. From the trailhead, the first five miles or so are gradual and suitable for beginners. Beyond that, things get more interesting. The maze of trails can be challenging to navigate, but most of the intersections are marked with numbers and names that are on most local mountain bike maps.
The Ketchum-Hailey-Sun Valley area boasts more than 400 miles of singletrack, much of it some of the smoothest, buffest mountain biking in the country. The area's most famous mountain bike ride is the Fisher Creek Loop, which rips one of the world's great cross-country descents, Williams Creek. This 18-mile trail has no shortage of spectacular views, but the singletrack that winds through the burn area (from a 2005 fire) is some of the most unique. If you can time it right, try to coordinate with wildflower season.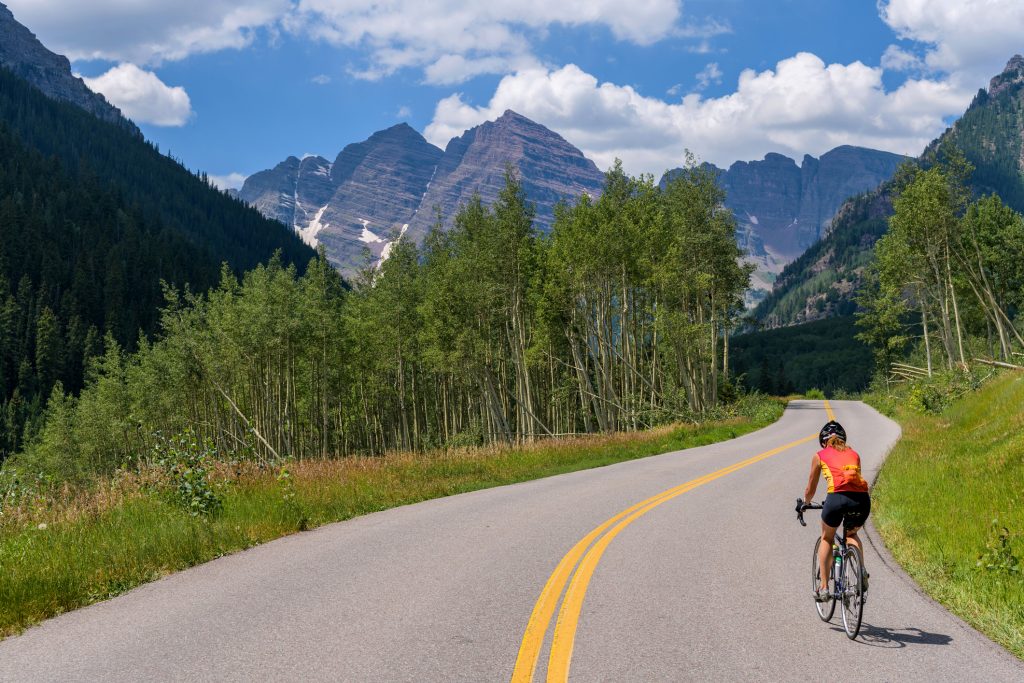 While most mountain bikers come to this area to bike at the popular Mammoth Mountain Bike Park, no trip to the Eastern Sierra would be complete without riding Lower Rock Creek Trail. The upper section of the trail is moderately difficult, while the lower section requires advanced skills. As the canyon walls get deeper, the rock gardens get more frequent as the trail descends nearly 2,000 feet (and climbs only 50 feet). There's even a stream crossing at the end to cool off in. If you shuttle, arrange to be picked up at the bottom near Paradise Lodge. Or, you can ride the 8-mile, 2,000-foot climb on the rarely used Old Hwy 395.
 5 Tips in staying cool while riding in the heat

1. Stay hydrated Make sure that you plan your trip accordingly to the amount of water that you will carry with you. You should at least drink a 500ml bottle an hour. If it is hotter than usual, then consider increasing the bottle size. 2. Apply and re-apply enough sunscreen Roughly 30 minutes before you start your tour, apply sunscreen of at least SPF30 with a UVA star rating of 4 or 5 stars. Re-apply sunscreen is pivotal during your ride, therefore, recommended timeframe to re-apply sunscreen is every two hours. If the sun is too strong and if you're heavily sweating, consider reapplying more regularly. Always carry a small bottle of sunscreen in your jersey pocket or backpack. 3. Wear the right clothes  Keep in mind, that although your skin is covered by your cycling gear, it is not necessarily protected. Ensure to choose a special cycling jersey and shorts that are made of UPF fabric or fabric featuring UV protection. 4. Pick the right time of the day

The time you ride plays a crucial part in how hot your surroundings will get. Aim to get out on the road as early as possible, before the sun is not yet at its fiercest. It's best to avoid a ride from noon through the afternoon. Plan your ride with plenty of shade-providing options like woodland. If you ride best once the sun is down, ensure you wear reflective gear, charged bicycle lights, and, preferably, put a light on your helmet.

5. Plan ice-cold refreshment breaks  Pick a route that provides lakes or other free-to-use water resources in nature to slowly pour some cold water over your neck or wrists. If your trip leads you through a city of any size, make sure to stop at the local ice cream shop. Extra: Ride in a group  It is always better and recommended, in case of an emergency, to ride in a group. Make sure to inform people where exactly you're going, carry a GPS on you, and regularly report back to your loved ones.
5.
Flying Dog
, Park City, Utah
Flying Dog is a scenic, fairly non-technical IMBA-designated Epic Ride. It's perfect for groups with intermediate mountain bikers, as well as experts, who can enjoy cruising down the fast, buffed out dirt and over bridges that cross ponds and streams. The shortest route is a 10-mile ride with a 1,500 vertical feet elevation change. Options include a 10-mile easier ride, a 16-mile moderate ride and a 23-mile ride with 3,000 feet of climbing.
Hermosa Creek is considered by many to be one of Durango's, and even one of Colorado's, top mountain biking rides. The 20-mile straight shot begins from a meadow at the top of Durango Mountain Resort and follows Hermosa Creek down 3,000 feet (with some climbs mixed in) to the small town of Hermosa. It's almost always ridden as a shuttle, though hardcore locals and pros have been known to ride it from town as a 50-mile loop.
7. 401, Crested Butte, Colorado
For decades, 401 has lured riders who come with visions of downhill switchbacks through head-high wildflowers. The middle-chain dirt road warm-up deposits riders into the alpine, where the rolling terrain gives way to a ridge with spectacular views. Finish with the unmatched natural banked slalom to town (through the wildflowers, if you're lucky).
8. Powerline, Snowshoe, West Virginia
In the mountains of West Virginia Snowshoe offers some of the east's best lift-served trails. The resort even hosts a popular downhill race series. A favorite of east coast riders, Powerline trail twists through the deciduous on firm, bermy singletrack, crossing roots and a handful of jumps. It's got enough going on to entertain even the seasoned pro. The Snowshoe Bike Park offers plenty of lessons to get the whole gang up to speed.
The Stowe Mountain Bike Club (SMBC) opened Kimmer's as a flowing 8-mile trail with berms, bridges and rollers. It was built for all skill levels to enjoy, while bonus features up the ante for advanced riders. It's best ridden as an out and back or as a link between the Trapps Trails and the town of Stowe. Join the SMBC for one of their weekly rides to learn more about the network of trails around Stowe.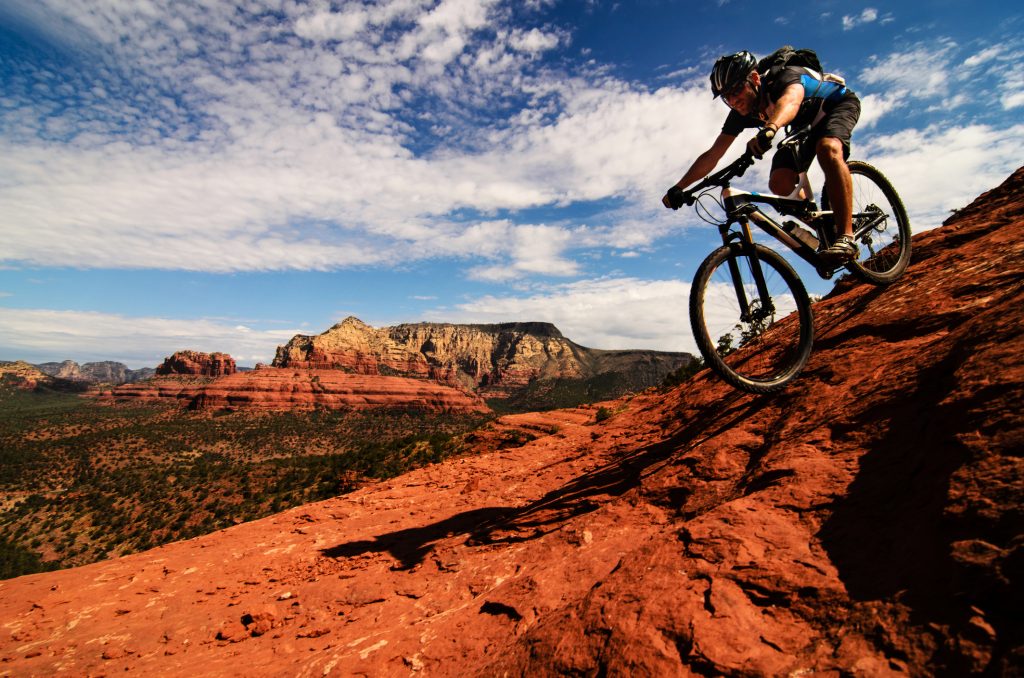 Moab has been dubbed by many as the Mountain Bike Capital of the U.S. You'll be riding from an alpine pass above the treeline, and then it's the canyon of sandstone that makes up the base of the Colorado River. There's singletrack and even some paved trail to give your insides a break. The Whole Enchilada is famous because everything Moab has to offer will explode your senses in this one ride. While you're at it in Moab, Captain Ahab and Slickrock are no slouches.
Published & Written By "OnTheSnow Staff", 2nd September 2022 |