MEET "THE SECRIST TEAM"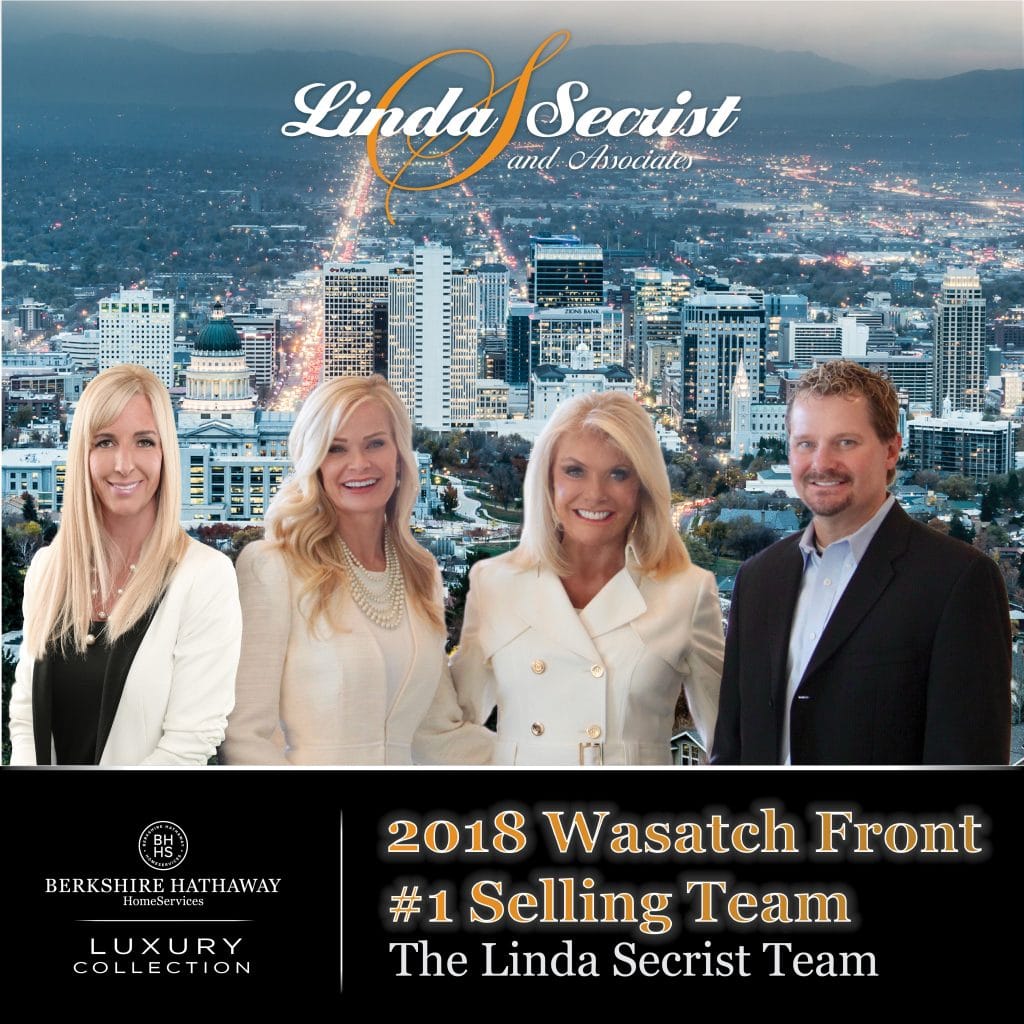 The Secrist Team has just recently been awarded Berkshire Hathaway's  #1 Sales Team for 2018…….Again!  They continue to provide the most professional, knowledgeable and experienced service to home buyers and sellers throughout Utah. The Secrist Team utilizes the most comprehensive marketing tools and innovative technology available and they understand and are experts in the Utah Housing Market!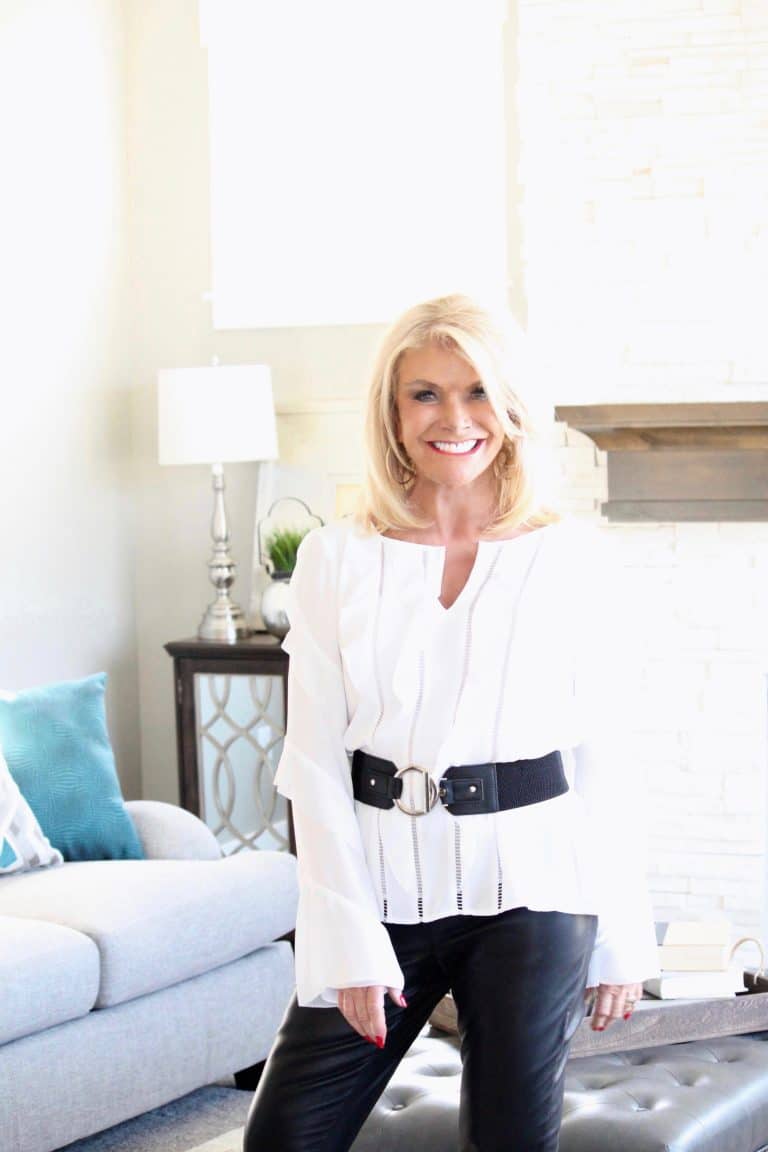 Linda Secrist
Since joining the real estate industry in 1991, Linda Secrist has become one of the most decorated and successful realtors in the Nation, let alone the Wasatch Valley, nestled in the heart of beautiful Utah.
With prestigious awards such as Salesperson of the Year(Salt Lake Board of REALTORS), a 20-time Top 1% National Ranking, 26-time Sales Team of the Year (Gump & Ayers, Mansell & Associates, Coldwell Banker, Prudential of Utah & Berkshire Hathaway of Utah), Rookie of the Year, Sales Team of the Year (Salt Lake Board of REALTORS), and recently designated a Top 100 Agent Worldwide …. so what's left? Tons, if you ask her.
Linda is not only one of the most successful and effective "closers" of all time, but she continues to define the industry in both traditional and non-traditional avenues. She's innovative and persistent in marketing. So much so, Linda Secrist is now a brand synonymous with luxury real estate throughout Utah and beyond. She's closing in on ONE BILLION DOLLARS in residential real estate volume and continues to average 60+ million in annual sales volume over the past ten years. Yes, that includes the time period in which the entire country saw one of the worst real estate crashes ever.
A strong portion of Linda's clientele comes through referrals …. period. Her "work ethic and candor" always seem to head those endorsements. Linda has coined the phrase "It doesn't cost more to use the very best."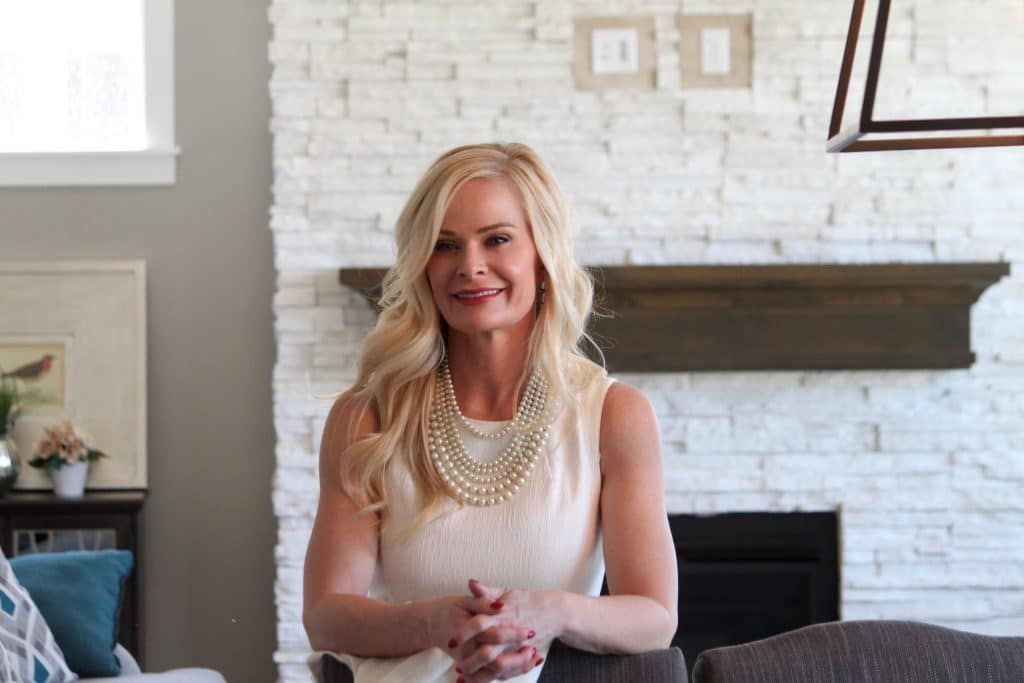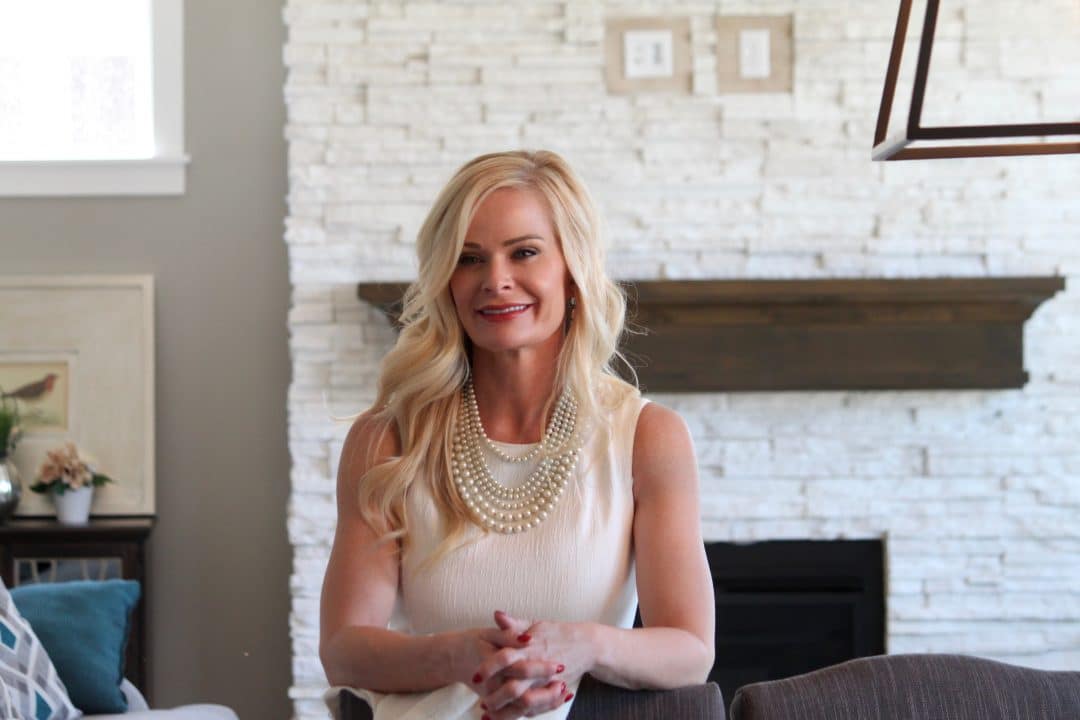 Lisa Herron-McKinney
It's a common misconception that the work behind the luxury real estate market is just that … luxurious. With three to ten times the property comes three to ten times the expectation. And with three to ten times the expectation comes three to ten times the commitment to the client.
Since joining The Secrist Team over 20 years ago, Lisa and Linda have combined to win Sales Team of the Year (Gump & Ayers, Mansell & Associates, Coldwell Banker, Prudential of Utah & Berkshire Hathaway of Utah) over 20 times. Together, they've earned the prestigious Small Sales Team of the Year Award from the Salt Lake Board of REALTORS. Continuously, they've grossed $60+ million average annual volume over the past decade. Lisa's expertise in interior design and staging compliments Linda's marketing expertise. Their most recent award for the Medium Sales Team of the Year Award by the Salt Lake Board of REALTORS tops off their recent accolade as one of the Top 100 Realtor Teams Worldwide.
As with Linda, a major portion of Lisa's clientele comes via referral. Realtors can advertise, but no amount of ink is worth the word of a truly satisfied buyer/seller. Lisa has adopted Linda's "it doesn't cost more to use the very best."
In addition to life with the Linda Secrist Team, Lisa is a dedicated mother to five "on the go" children. She's a proud Utah native and an active participant in all it has to offer. If she ever comes up missing, check Lake Powell, any hot yoga studio or the ski resorts up Little Cottonwood Canyon. You may catch a glimpse of her and her CMT award winning country musician hubby, Chance McKinney, as they catch a few moments together in whatever "downtime" a full-time Realtor and frequent traveling musician and parents to five can actually squeeze into a 24 hour day.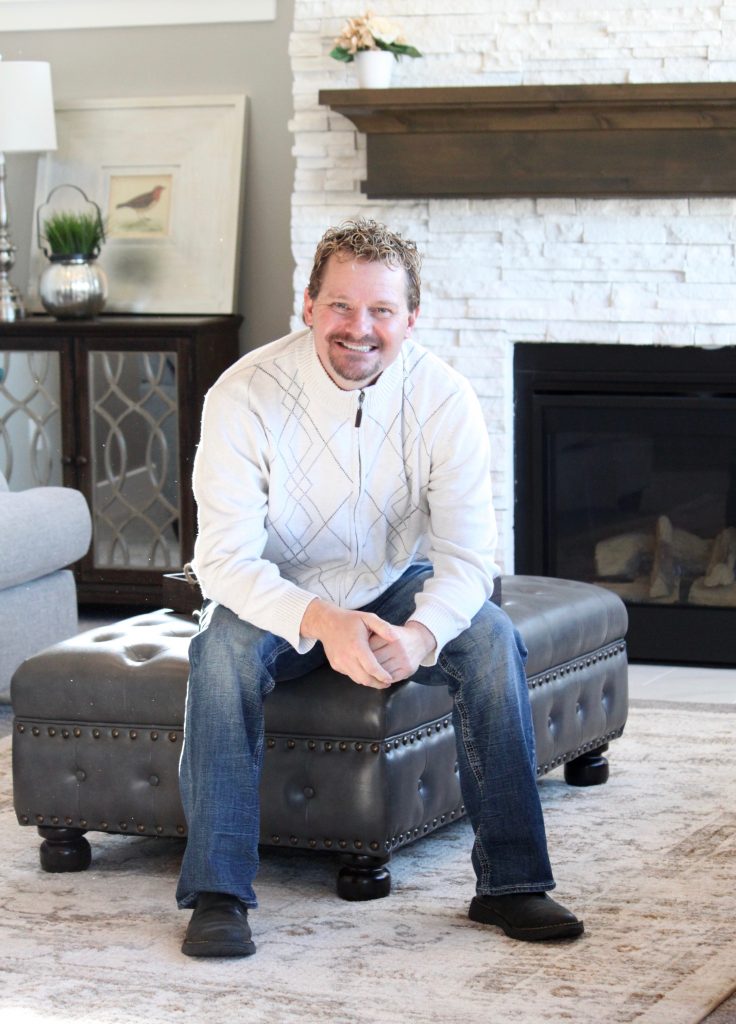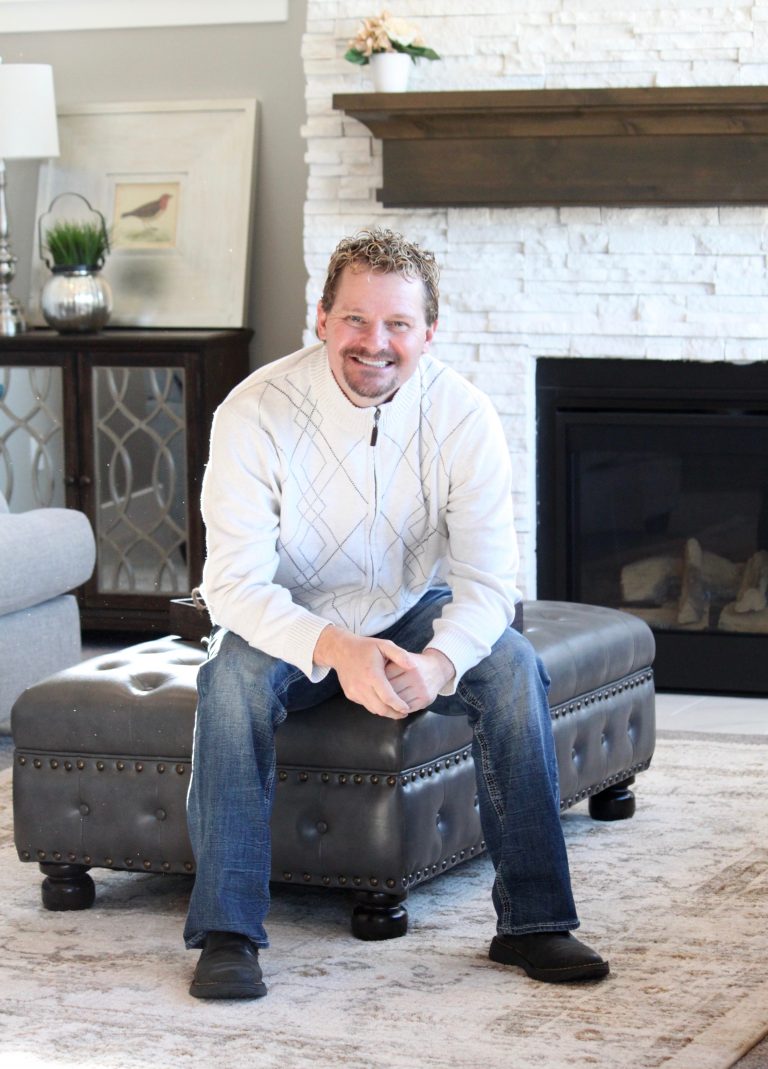 Brett Butler
When entrepreneurs set out to build a business, they consider their available avenues to make it as successful as possible. Sometimes, whether through hard work, sacrifices, good decisions, bad ideas or just pure luck … they find their business has grown into a brand. Successful branding comes from being extremely good at one thing and supporting it with diversified areas of expertise. Brett Butler is that piece of the Secrist Team. His 14 years of professional licensed construction experience prior to joining Linda and Lisa in 2008 is the perfect fit in a well laid out puzzle. Between Linda's innovative marketing approach, Lisa's interior design and Brett's structural expertise, Linda The Secrist Team is the most dynamic field of experts in real estate serving the most important client … you. Brett spearheaded the RED and Short Sales division of The Secrist Team when the market demanded it. Brett handled everything from first time buyers to HUD homes to FHA loans now that they've become prominent due to economic restructuring in the government. He's also a magnet for luxury listings in rural areas (i.e. ranches, horse property and estates). And, if that's not enough, Brett has tackled all arenas of our online presence. As a single father of two extremely active teenagers and a 7-time Sales Team Award Winner (Prudential of Utah & Berkshire Hathaway), Brett is a bundle of gas-soaked kindling just waiting for the next match to strike. His integral contributions to the Secrist Team brand has helped shape it into what it's become today. 801-301-6435
Brett@LindaSecrist.com

Rebecca Higgins
Rebecca Higgins is the newest member of The Secrist Team. Rebecca has over 10 years of experience in the mortgage and real estate market.  She brings with her a wealth of knowledge, experience, and success to contribute to an already extremely successful real estate team. Her passion for real estate started at a young age; whether it's painting a room or helping a client buy or sell their home, she loves to invest her time in real estate and designing new spaces. Rebecca has experience building homes and helping others create their own dreams. She loves the potential real estate can create as well as the impact it has on our daily lives. It is the most important investment a person or family will make. Rebecca lives in Northern Utah County and serves the real estate needs of the people she knows and loves in Utah County and through the Wasatch Front. Berkshire Hathaway HomeServices Utah Properties provides the most enhanced worldwide services and resources which she will pass along to her valued clients. Outside of the office, Rebecca enjoys spending time with her family, exercising, interior design, travel, and working with children. What are you known for? – Extensive knowledge in construction, design, mortgages, and finance. Born in – New York, NY Proudest moment –  Raising my three kids and seeing them succeed and happy in life Hardest thing you've ever done – Working with my daughter as she struggled through dyslexia and several health challenges. Perfect day – Looking for seashells on the beach with my kids and sipping a diet coke. Best gift you've ever received – handwritten cards from friends and family First job – selling lemonade Secret talent – Can work a jig-saw, sander, and any other power tool while building projects with my kids. Define success – working or serving with others which turn into lifelong-relationships in the process. What do you love about Utah? I love the change of seasons, the fresh air, the people, and the great family culture.  801-735-9664  rebecca@LindaSecrist.com
It doesn't cost any more to use the best!

Put The Secrist Team's experience to work for you today!
---
---

Linda Secrist's Salt Lake City Real Estate Home Page 
• 
Salt Lake City Real Estate
 • 
Draper Real Estate 
• 
Holladay Real Estate 
• 
Sandy Real Estate 
• 
South Jordan Utah Real Estate 
• 
Salt Lake City's Top Real Estate Agent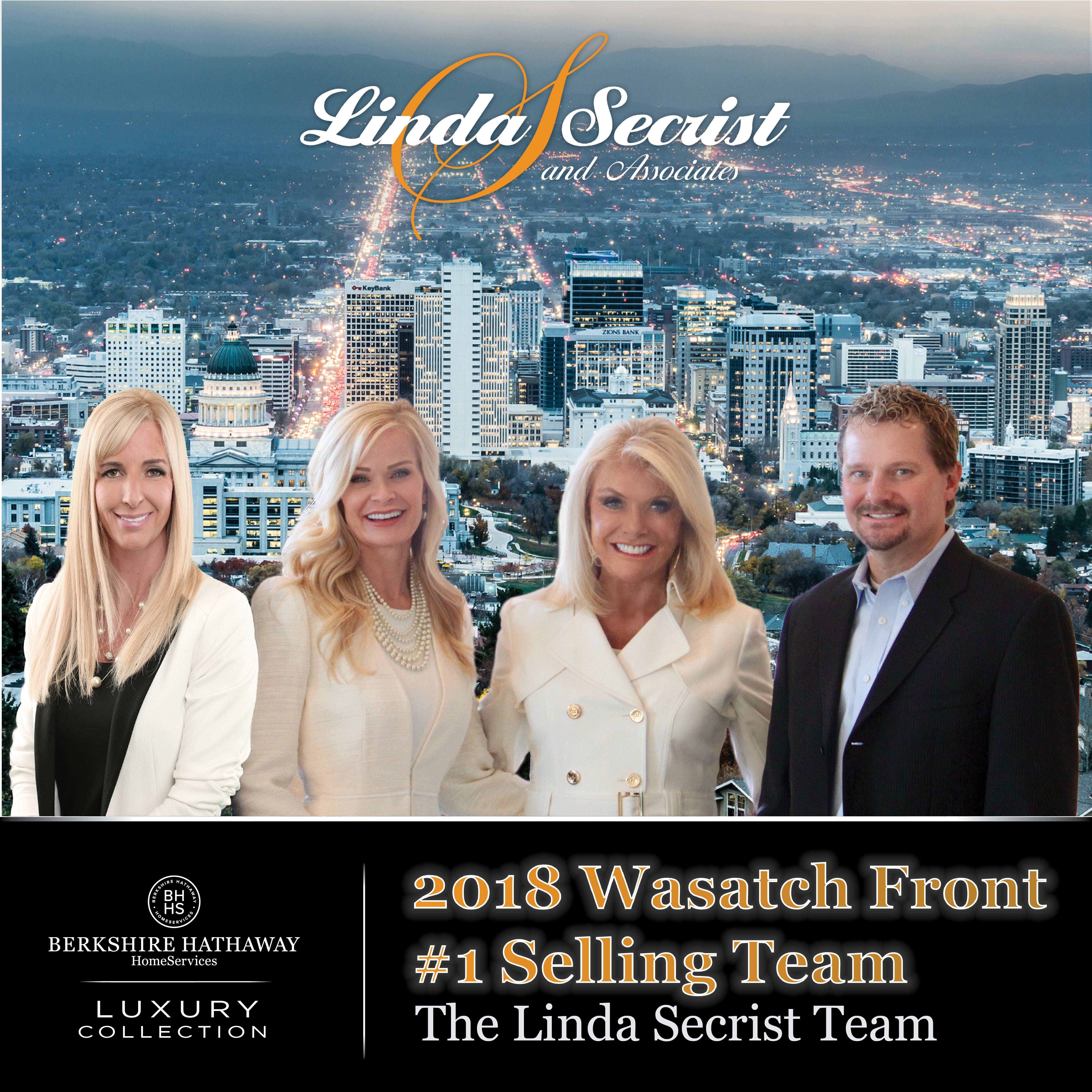 Linda Secrist & Associates is the top selling team in luxury homes in the SLC Market. They have received countless awards over the past 20 years, including "Sales Team of The Year" for over 10 years including 2018! Linda Secrist is #54 in the top 100 Agents in the World in luxury residential real estate. If you're searching for homes in Sandy, Salt Lake, Cottonwood Heights, Millcreek, Draper, South Jordan, Bountiful, Centerville, Farmington or anywhere in northern Utah, Linda Secrist & Associates are the real estate agents to call. If you're buying or selling a home, don't hesitate to text or call us at 801-455-9999!
#mcm #wcw #uthahomesforsale #Openhouse #homebuying #utahluxuryhomes #luxury #luxurylifesyle #buyahome #utahrealestate #utahrealtor #no1realestateagent #homesforsaleinutah #bestrealtor #skiutah #utahlistings #mlslistings #skiutah #funthingstodoinutah #relocatetoutah #thegreatestsnowonearth #utahskiresorts #worldclassskiresorts #utaheconomy #utahinvestments #stagingyourhome #villaatdimpledell #searchutahhomes #luxuryhomesforsaleinutah #mainfloormaster #homesforsaleinsandyUt #homesforsaleinpepperwood #homesforsaleindraper #searchallutahhomes #utahhousingmarket #slchousingmarket #hometrends #luxuryhomes #modernhomes #openfloorplans #relocate #relocation #seller #buyer #saltlakerealestate #buyingahome #mainfloorliving #homestyle #homedesign #number1 #sellingahome #silicon #slopes #lindasecristandassociates #lindasecrist #saltlakerealestate #utah #UT #Newhomes #Utahhomes #Realestate #Openhouse #tour #sale #rambler #shop #linda #Secrist #Associates #Events #MLS #Parkview #Villas #Luxurylifestyle #Saltlakeolympics #winterolympics #skiutah #thegreatestsnowonearth #Sundancefilmfestival #siliconslopes #winter #Snowbasin #Ski #Skiing #Mountains#Deervalley#concert#outdoor#utahsymphony#hometour#newdevlopment#mainfloorliving